container
TECHNOLOGY
With the technical innovations obtained through constant R&D at our R&D Center,
we possess unparalleled technological prowess and competiveness in the domestic automobile parts industry.
R&D
R&D Center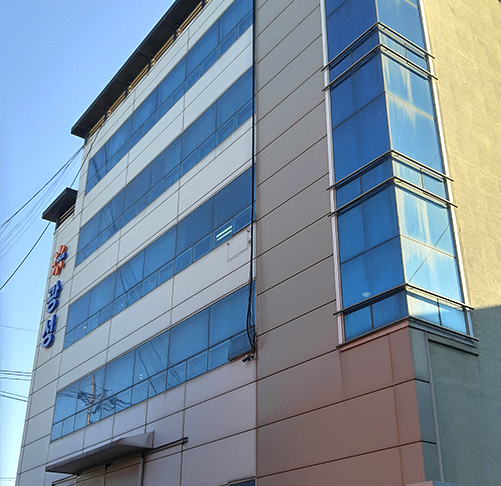 Throughout the years, the R&D Center has achieved technical innovations through constant research based on KWANGSUNG CORPORATION's excellent technological capabilities. Additionally, it plays a vital role of a think tank while securing global standard technology, and is focusing its potential on developing the company's mid- to long-term technological strategies and R&D by realizing systematic products through system analysis. The R&D Center will continue to develop cutting-edge technology and accumulate knowledge of all these technologies into its database to secure the competiveness worthy of Korea's greatest automobile parts company.
Date of Establishment : June 1996
TEL : 82-31-8084-9100
FAX : 82-31-496-9074
Address : 6, Beonyeong-ro 186beon-gil, Danwon-gu, Ansan-si, Gyeonggi-do
Research Fields
Research Fields
Sector
Research Field
Design

Inspection of Designs and Engineering
CATIA MODELING
Review of ESIR and Prior Quality

Development

Development of New Technologies / New Products, and Establishment of Manufacturing Specifications
Development of Tooling, Jig, and Fixtures
Project Time Management (PM)

Development Quality

Designing of Quality Process and Review/Development of Product Quality
Establishment of ISIR & Quality Guarantee System

Testing/Evaluation

Product Measurement and Reliability Evaluation
Securement of Durability and Management of Testing Specifications

Technical Support

Support and Trial of Mold and Molding Technology
Setting of Optimal Machine Parameters and Securement of Mass Producibility

Prior Art

Development of New Materials, Methods, and Products
Analysis of Promising New Business Trends
DB Analysis of Client Company Technology Trends
Performance of National Policy Task Development
Management of Patents and Establishment of Strategies
Analysis of Laws and Environmental Regulation Trends
Patents
Patents

| No. | Patent Name | Category | Application Number | Registration Number | Applicant | Notes |
| --- | --- | --- | --- | --- | --- | --- |
| 1 | Tape attaching device of car door sash | Patent | 10-2000-0067038 | 10-0376808-00-00 | Joint Application with Printec A&E Division | |
| 2 | TAPE ATTACHING DEVICE OF CAR DOOR SASH | Patent | 10-2005-0029295 | 10-0625924-00-00 | KWANGSUNG CORPORATION | |
| 3 | A pressure sensitive adhesive sheet with air-eliminable channels | Patent | 10-2009-0084278 | 10-1108596-00-00 | KWANGSUNG CORPORATION | |
| 4 | Pressure-sensitive adhesive sheet with air-eliminable channels | Patent | 10-2013-0016188 | 10-1320300-00-00 | KWANGSUNG CORPORATION | |
| 5 | Release film for adhesive sheet | Design | 30-2013-0007973 | 30-0725041-00-00 | KWANGSUNG CORPORATION | |
| 6 | Release film for adhesive sheet | Design | 30-2013-0007974 | 30-0725044-00-00 | KWANGSUNG CORPORATION | |
| 7 | Pressure-sensitive adhesive sheet with air-eliminable channels | Patent | 10-2013-0120356 | 10-1523321-00-00 | KWANGSUNG CORPORATION | |
Patent

| No. | Patent Name | Category | Application Number | Registration Number | Applicant | Notes |
| --- | --- | --- | --- | --- | --- | --- |
| 1 | MANUFACTURING METHOD OF SUNVISOR FOR VEHICLE | Patent | 10-2004-0070330 | 10-0594452-00-00 | KWANGSUNG CORPORATION | |
| 2 | ANTI-DEFLECTION ENFORCED LUGGAGE SCREEN FOR VEHICLE | Patent | 10-2010-0125910 | 10-1037893-00-00 | KWANGSUNG CORPORATION | |
| 3 | Lamp Integrated Cargo Screen | Patent | 10-2011-134911 | 10-1316457-00-00 | Joint Application with Hyundai Motor Company | |
| 4 | Power supply device for cargo screen lamp | Patent | 10-2012-0032716 | 10-1315742-00-00 | Joint Application with Hyundai Motor Company | |
| 5 | intelligent vehicle sun visor and the control method | Patent | 10-2016-0091678 | 10-1761851-00-00 | KWANGSUNG CORPORATION | |
| 6 | CARGO SCREEN AND VEHICLE INCLUDING SAME | Patent | 10-2017-0085607 | 10-1814131-00-00 | KWANGSUNG CORPORATION | |
| 7 | Plastic mirror for vehicle internal parts and manufacturing method thereof | Patent | 10-2017-0124792 | 10-1904670-00-00 | KWANGSUNG CORPORATION | |
| 8 | APPARATUS FOR LIGHTING OF VEHICLE SUN VISOR | Patent | 10-2018-0071008 | 10-1915307-00-00 | KWANGSUNG CORPORATION | |
| 9 | POLYPROPYLENE RESIN COMPOSITION FOR LUGGAGE BOARD IN CAR AND LUGGAGE BOARD IN CAR COMPRISING THE SAME | Patent | 10-2018-0050811 | | KWANGSUNG CORPORATION | |
| 10 | CARGO SCREEN | Patent | 10-2018-0071009 | | KWANGSUNG CORPORATION | |
| 11 | EXPANSION UNFOLDING TYPE CARGO SCREEN | Patent | 10-2018-0071010 | | KWANGSUNG CORPORATION | |
| 12 | VEHICLE SUNVISOR WITH LIGHT | Patent | 10-2018-0165258 | | KWANGSUNG CORPORATION | |
| 13 | VEHICLE SUNVISOR FOR OBTAINING EXTERNAL VISION | Patent | 10-2018-0165200 | | KWANGSUNG CORPORATION | |
| 14 | VEHICLE SUNVISOR WITH VIEW ABILITY | Patent | 10-2018-0166565 | | KWANGSUNG CORPORATION | |
Patent

| No. | Patent Name | Category | Application Number | Registration Number | Applicant | Notes |
| --- | --- | --- | --- | --- | --- | --- |
| 1 | POLYPROPYLENE RESIN COMPOSITION FOR PRESSURE TYPE COOLANT RESERVOIR TANK | Patent | 10-2017-0086283 | 10-1856499-00-00 | KWANGSUNG CORPORATION | |
| 2 | POLYPROPYLENE COMPOUND COMPRISING PHASE CHANGE MATERIAL AND PART FOR VEHICLE USING THE SAME | Patent | 10-2018-0173807 | | KWANGSUNG CORPORATION | |
Patent

| No. | Patent Name | Category | Application Number | Registration Number | Applicant | Notes |
| --- | --- | --- | --- | --- | --- | --- |
| 1 | ECO-DRIVE INDICATOR USING SMART PHONE FOR VEHICLE | Patent | 10-2010-078223 | 10-1205983-00-00 | KWANGSUNG CORPORATION | |
| 2 | SLEEPINESS PREVENTION OXYGEN GENERATOR FOR VEHICL AND THE METHOD THEREOF | Patent | 10-2010-0078206 | 10-1205974-00-00 | KWANGSUNG CORPORATION | |
| 3 | SLEEPINESS PREVENTION AIR FRESHENER KIT FOR VEHICLE | Patent | 10-2010-0081162 | 10-1184886-00-00 | KWANGSUNG CORPORATION | |
| 4 | FEMALE CONNECTOR FOR QUICK CONNECTOR | Patent | 10-2013-0000838 | 10-1282642-00-00 | KWANGSUNG CORPORATION | |
| 5 | Reformed microfibrillated cellulose and manufacturing method thereof | Patent | 10-2017-0062961 | 10-1856497-00-00 | KWANGSUNG CORPORATION | |
| 6 | MODIFIED MICROFIBRILLATED CELLULOSE AND MANUFACTURING METHOD THEREOF | Patent | 10-2017-0083427 | 10-1856496-00-00 | KWANGSUNG CORPORATION | |
| 7 | FIBRILLATED CELLULOSE FILAMENT PREPARATION METHOD THEREOF | Patent | 10-2017-0086307 | 10-1856501-00-00 | KWANGSUNG CORPORATION | |
Testing Equipment
Testing Equipment

| No. | Equipment | Units | Purpose |
| --- | --- | --- | --- |
| 1 | Combined Environmental Chamber | 2 | Cold and Heat, Moist-heat Resistance, Thermal Resistance Cycle, Heat Cycle, Long-term Thermal Resistance, and Moisture Resistance Testing |
| 2 | Water Resistance Tester | 1 | Water Resistance Testing |
| 3 | Complex Vibration Tester | 1 | RESERVOIR ASSY-RADIATOR, RSVR&PUMP ASSY-W/S WASHER High/Low Vibration Durability Test of Plastic Parts |
| 4 | Thermal Aging Tester | 1 | Thermal Aging Testing |
| 5 | Universal Testing Machine | 1 | Durability Testing (Seal, Compression, Adhesive Strength, etc.) |
| 6 | Salt Spray Tester | 1 | Plating, Painting, and Corrosion Resistance Testing |
| 7 | Glove Box Durability Tester | 1 | Glove Box Durability Testing |
| 8 | Rubbing Resistance Color Fastness Tester | 1 | Rubbing Resistance Color Fastness of Tapes, S/VISOR Fabric, etc |
| 9 | Color Fastness/Rubbing Tester | 1 | Wear Resistance and Surface Damage Testing |
| 10 | Flammability Tester | 1 | Flammability Testing on Materials |
| 11 | Combined Operational Durability Tester of SUNVISOR | 3 | Performance Durability Testing of Sunvisor Products |
| 12 | Washer Tank Tester | 1 | Washer Pump Testing |
| 13 | Falling Ball Impact Tester | 1 | Impact Resistance Testing |
| 14 | Hardness test measurement | 1 | Analysis Hardness Measurement Testing |
| 15 | Portable VOC Monitor | 1 | Portable VOC Testing |
| 16 | Heavy Metal Analyzer | 1 | Check the content of heavy metals such as Pb, Cd, etc. in the product |
| 17 | Console Armrest Durability Tester | 1 | Operational Durability Testing on Console Armrests and Cup Holders |
| 18 | Light Resistance / Weather resistance tester | 1 | Deterioration or Discoloration Testing on Polymer (Fibers, Plastics, Rubbers, etc.) Exposure to Sunlight (UV, and Visible Light) |
| 19 | Impact Tester | 1 | Impact Testing on Sun Visors and Console Armrests |
| 20 | 3D Coordinate Measuring Machine | 1 | Testing on Shape, Location, etc. of Product |
| 21 | Circulating Pressurized Tester | 1 | Circulating Pressurized Testing on Coolants |
| 22 | Bursting Pressure Tester | 1 | Testing on Required Strength Retention of Pressure |
| 23 | Air Vent Tester | 1 | Calculation of Inflow Rate of Air into Coolants |
Possessed Technologies
3D Blow Molding /
2 kinds materials in one molding

Intake hose : Substitute Rubber
and Aluminum

Feature : Uses two kinds of materials (circled part capable of movement)

Heat Resisting /
High Strength Plastic Duct (CAC Duct)

Turbo charger Intercooler Outlet
Duct Ass'y

Feature : High strength material duct

Sunvisor

Reduced Thickness : 25mm 22mm
20mm 18mm

Feature : Gradually reduced sunvisor thickness

Black Out Type

Matt, Textile, Semi gloss, High gloss
90% Market share for Hyundai/KIA/GM

Feature : Creates a line on the chassis frame of the vehicle body and a clear vehicle body line on the center pillar, and raises the aesthetic quality of the automobile

Foamed Duct (HVAC / Floor) &
Foamed Luggage Board

Technical Cooperation with KYORAKU Japan.

OLED Indirect Lighting for Cargo
Screen

Feature : Cargo screen with lighting